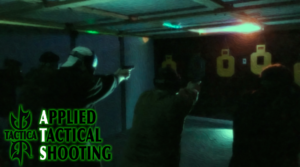 Our non-live fire Applied Tactical Shooting (ATS) program presents and exercises tactical shooting skills, techniques, and mindset in the context of weapon handling. Students will be able to learn new skills as well as maintain and hone existing ones. The program is appropriate for any level of shooter, from the complete novice to the experienced operator.
Each session will have a different curriculum. Military, law enforcement and first responders are welcome to join and get a 10% discount, will need to show proof.
Are you not sure whether you are ready for Applied Tactical Shooting? We also offer Pistol 101 classes for beginners and those re-familiarizing themselves. The Pistol 101 course uses Non-Lethal Training Ammunition and a real Glock pistol.