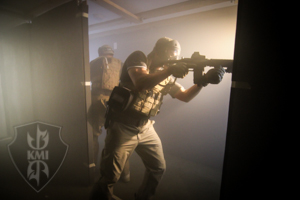 This full day, non live fire course introduces and develops the core fundamentals, principles and mindset needed in Close Quarters Battle (CQB). You will learn and practice armed movement in, around, and through structures, emphasizing the principles of CQB – high precision application of force delivered with maximum speed, surprise, and violence of action. The course is presented by members of our cadre;  unique, multi-deployment experienced Operators from the US Marine Corps Forces Special Operations Command (MARSOC).
CQB1 focuses on individual and 2 person teams – analogous to a husband and wife team responding to a Home Invasion scenario, 2 business partners protecting their place of business, time critical active shooter response, or Patrol Officers making high risk entries and clears.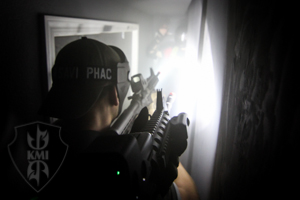 Training is conducted in a state of the art simulation environment (shoot house), maximizing realism and learning using:
Our modular, reconfigurable, and environment-controlled simulation house,
Professional grade MilSim (non-live fire)  firearms
3D Reactive Targets, and Role Players in Full contact Blauer High Gear dynamic training suits
After Action Reviews using the facility's 16 night/day video system
The course utilizes classroom theory, active movement and shooting drills coupled with hyper-realistic, practical CQB problems designed to challenge you to solve efficiently and safely while maintaining situational awareness in the dynamic 360 degree, 3 dimensional environment. Students will be constantly assessed, coached and mentored by our qualified Combat experienced instructor staff in order to reinforce and cement these newly learned skills and tactics.
Specific skills addressed will include:
Proper CQB weapons handling and movement
Team communication
Room and Hallway entry and clearing
Fatal Funnel, Cover and Concealment
Identification of high threat areas
Moving to and controlling points of domination
Sectors of fire
Low light/low viz considerations
By teaching proven methods, coupled with real world scenarios, this class will challenge you via the dynamic, stressful 360 degree / 3D envelope of the Shoothouse to develop the mindset, tactics and skills to take your capabilities to the next level and equip you to be physically and mentally prepared for close quarter combat scenarios.
Provided at Facility, Included in Cost:
Coffee, Refreshments and Lunch
Professional Training MilSim (AirSoft) M4 rifles and Glock type pistols
Basic/required safety items for MilSim training (Full FacePro, NeckPro, Armored Gloves) minus groin protection.
Modular (MOLLE) Chest Rig, M4 and Pistol Magazine Pouches
Equipment Recommended:
Clothing : Heavy Duty "Gun" or "Riggers" Belt, Long sleeve shirt and pants, Hat or other head covering
Eye Protection (safety type glasses or shatterproof/ballistic lenses)
Tactical Flashlight
Any M4 Picatinny tactical (MIL-STD-1913) rail mount options you train/fight with (lights, lasers, optics,), your preferred M4 weapons sling (single point mount provided)
Notebook/Pen
Prerequisites:
Demonstrable capability and safety with pistol and rifle.
Previous applicable coursework from reputable public or private training provider.
Background checks may be processed.
Class Size:
Limit 16