This 8-hour Tactical Combat Casualty Care (TCCC) course will empower you and your team with the skills needed to successfully function in high-stress situations and treat the three leading causes of preventable combat death: uncontrolled hemorrhage, tension pneumothorax and airway obstruction.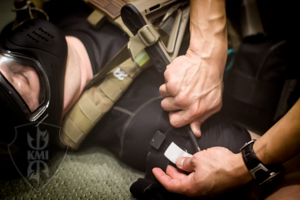 Training is conducted in partnership between KMI's Applied Tactics Division and ADAPTAGEAR™. With a cadre of Special Operations Combat Veterans (AFSOC Pararescue), and our advanced customizable, modular training facility, scenarios can range from individual first aid to a multi-casualty incident that can take place in anything from a schoolhouse to a health clinic. Using remote and sensor-powered environmental controls, students will learn to manage: hostile threats, various environments, zero-visibility, low light and other obstacles. You will be placed in numerous situations such as being under fire from our instructor cadre utilizing mil-sim platforms for the most realistic training opportunity. Evolutions and progress can be captured via the use of 16 day/night vision cameras located throughout the tactical area and provided to students on-demand.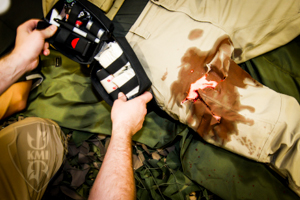 During the first half of the course, students are introduced to the essentials of Operational Medicine. Students will learn to use ADAPTAGEAR's 3TMC™ medical kits with a focus on traumatic accidents, active shooters, bombings, and/or other disaster-type scenarios.
In the second half, we go a step further and introduce students to Mass Casualty Incidents (MCI's.) Using the 3TMC method, students learn a streamlined and effective approach to dealing with various types of MCI's. Using high-stress, scenario-based training with simulated wounds and role players; students are provided with a multi-dimensional learning environment.
By the end of the course, students will be able to:
Follow the 3TMC mnemonic
Identify when they're in a high risk or hostile situation
Methodically determine a medical response
Open airways, apply tourniquets, pressure dressings, and effectively use occlusive chest seals
Prevent, Identify and Manage hypothermia
Items Covered:
Introductions
Background of TCCC
Injuries to expect
Anatomy and Physiology
Patient Assessment
Utilization of ADAPTAGEAR 3TMC Kits
MCI Command and Control
Sector Searches and Triage
Casualty Collection Points
1, 2 & 3-person carry's
Simulated MCI scenarios
Simulated wounds and role players
Active-Shooter scenarios
Shoot/No-Shoot scenarios
Blasts and Burns
Hypothermia prevention
Requirements
This course is open to all first responders (Active Law Enforcement (Federal, State or Local), EMS), Military (Active, Reserve or Guard), and pre-approved responsible civilians.
Provided at Facility
Coffee, Refreshments and Lunch is provided with course cost
ADAPTAGEAR™ 3TMC™ Training Kits
MilSim KWA Professional Training AirSoft (M4 platform and Glock type-ATP) provided at facility and included in cost
All the basic/required safety items for AirSoft (FacePro, NeckPro, Gloves) minus groin protection.
No outside weapons or ammo are allowed
No FX, UTM, or other Simmuntions allowed
Equipment Required:
Comfortable Clothing for class room sessions
Drill clothing can be either civilian or full duty attire/gear (train with which you fight)
Note: Field-type clothing is recommended to assist with: patient movement, dragging, etc.
Notebook/Pen/Paper
Recommended Items:
Groin Protection
Any M4 Picatinny tactical (MIL-STD-1913) rail mount options you train/fight with (lights, lasers, optics,)
Your own M4 weapons sling (single point mount provided)
Team litters or other medical equipment you'd like to train with
Class Size
Limit: 16
P.O.S.T. Certification:
Our 3TMC course is not currently P.O.S.T. certified. We are planning certification in the future.
Note:
No outside weapons or ammunition allowed in the facility at any time.