Tactica Advanced Training Center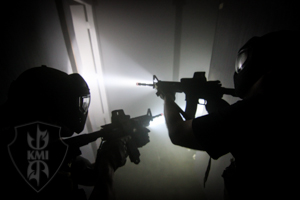 Our mission is to develop and deliver practical training by which students can experience, learn, hone and solve tactical problems in the most realistic and controlled environment. Through real world scenarios, stress inoculation, and pressure testing, individuals and teams are more likely to succeed when and where it counts—on the streets, in their homes, businesses or in combat.
Whether it be Home Defense, CQB, Tactical Medicine, or Krav Maga H2H, our uniquely qualified instructors maximally utilize the facility to dramatically enhance training, by harnessing the pulse pounding stress of the environment to develop clear thinking and high situational awareness in this fully integrated 360 degree, reactive 3D environment.
The Facility
We have architected a state-of-the-art tactical training center in our Santa Clara headquarters to enable true to life training.  This is a range for the mind as well as the body, establishing muscle memory, honing instinct, inoculating from stress, and sharpening target acquisition skills.
The multi-faceted facility, convenient to the San Jose International Airport, allows safe practice of real world threat scenarios in a realistic and controlled environment, featuring:
Modular and fully configurable wall and door panels, able to be set in a variety of multi-level configurations, from a home to a business, a hotel, school, nightclub
Environment controls for on the fly remote controlled lighting levels, colors, strobes, and fog/smoke
Equipment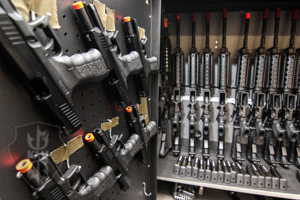 A fully stocked, state of the art, non live fire MilSim arsenal features a variety of commonly deployed platforms – including:
Striker-fired pistols (e.g. Glock17)
Hammer-fired pistols (e.g. SigSauer P226)
AR15/M4 carbines
Proper support and essential safety equipment — tactical gear, flash-bangs, holsters, slings, tactical lights, full face masks, throat and hand protection.
We believe a critical cornerstone of meaningful tactical training is the engagement of reactive targets, as opposed to typical square range stationary targets. The facility is fully equipped with:
Safety
Safety is paramount in our facilities and is taken with the utmost seriousness. Full coverage insurance, rules and state of the art safety gear is provided and mandatory on site, including full face masks, throat and hand protection.
Safety rules are in effect at all times; with zero tolerance for negligence. No live fire capable weapons, edged weapons or ammunition is allowed on site, and all courses begin with safety briefings, with mandatory weapons checks performed throughout the course of the day.
Experience It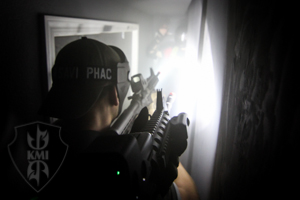 The KMI Applied Tactics Center is used in our variety of courses, including Tactical Home Defense (THD), Close Quarters Combat (CQC/CQB), Tactical Medicine (TACMED), and Krav Maga.
It is also available for rental, custom courses, or even team building events. Few facilities of this caliber exist within the public sector where these skills can be taught, trained and practiced.
[pe2-image src="http://lh6.ggpht.com/-5cC2-DYOR-4/U4ulryGzx8I/AAAAAAAAAZI/wXxRCo25ZGw/s144-c-o/IMG_3775.jpg" href="https://picasaweb.google.com/108670755262698866009/KMITacticalTrainingCenter#6020087498514089922″ caption="" type="image" alt="IMG_3775.jpg" ] [pe2-image src="http://lh5.ggpht.com/-f2WYp3ewNK8/U4uluuQLk2I/AAAAAAAAAZc/d7b-EZC9bFI/s144-c-o/IMG_3778.jpg" href="https://picasaweb.google.com/108670755262698866009/KMITacticalTrainingCenter#6020087549019263842″ caption="" type="image" alt="IMG_3778.jpg" ] [pe2-image src="http://lh4.ggpht.com/-2Km5H6yYi-k/U4ulvl3GMuI/AAAAAAAAAY4/UKhXWxFMQt0/s144-c-o/IMG_3781.jpg" href="https://picasaweb.google.com/108670755262698866009/KMITacticalTrainingCenter#6020087563946439394″ caption="" type="image" alt="IMG_3781.jpg" ] [pe2-image src="http://lh6.ggpht.com/-CSGd8h8u9_M/U4ulvwRHjZI/AAAAAAAAAZM/Z8ISoWoom0M/s144-c-o/IMG_3801.jpg" href="https://picasaweb.google.com/108670755262698866009/KMITacticalTrainingCenter#6020087566739934610″ caption="" type="image" alt="IMG_3801.jpg" ] [pe2-image src="http://lh3.ggpht.com/-BWBL8NsK_q8/U4ulyZBODtI/AAAAAAAAAZs/fc0kng1wqgM/s144-c-o/IMG_3863.jpg" href="https://picasaweb.google.com/108670755262698866009/KMITacticalTrainingCenter#6020087612038844114″ caption="" type="image" alt="IMG_3863.jpg" ] [pe2-image src="http://lh4.ggpht.com/-w3xPkNvoTD0/U4ul2wFpYvI/AAAAAAAAAa8/GW1mM03ebhE/s144-c-o/IMG_4110.jpg" href="https://picasaweb.google.com/108670755262698866009/KMITacticalTrainingCenter#6020087686950904562″ caption="" type="image" alt="IMG_4110.jpg" ] [pe2-image src="http://lh5.ggpht.com/-xtVlWnr0vBg/U4ulembzl6I/AAAAAAAAAXI/GgMGqBgzRgY/s144-c-o/IMG_5979.jpg" href="https://picasaweb.google.com/108670755262698866009/KMITacticalTrainingCenter#6020087272042633122″ caption="" type="image" alt="IMG_5979.jpg" ] [pe2-image src="http://lh6.ggpht.com/-bxa6onx1bn8/U4ulkHLmctI/AAAAAAAAAYM/ApdwCSlDdf8/s144-c-o/IMG_6550.jpg" href="https://picasaweb.google.com/108670755262698866009/KMITacticalTrainingCenter#6020087366732378834″ caption="" type="image" alt="IMG_6550.jpg" ] [pe2-image src="http://lh3.ggpht.com/-XSFiJ29u-pI/U4ulIrtZ4xI/AAAAAAAAAVY/MxfmxdTt_ZU/s144-c-o/IMG_7089.jpg" href="https://picasaweb.google.com/108670755262698866009/KMITacticalTrainingCenter#6020086895501501202″ caption="" type="image" alt="IMG_7089.jpg" ]