Certification
Why get certified with Tactica Krav Maga Institute?
If you want to teach Krav Maga, it is important to get thorough and high quality training in proper technique and the philosophy of Krav Maga. The Tactica Krav Maga Instructor Certification program at Tactica's Krav Maga Institute enables you to teach genuine Israeli Krav Maga self defense at the high standards that Tactica is known for world-wide.
We believe that your journey as a Krav Maga instructor is a lifelong continuous one. Becoming an instructor is not a single event. We develop coaches over an ongoing relationship and continuing education. This makes our KMIC different than every other certification program out there.
When you join KMIC, you pay a one-time fee and get a lifetime of access to development and support from Tactica.
KMIC grants unlimited access to:
Our annual 9-day (80+ hours) intensive immersion into KMIC technique, philosophy, and teaching skills. Individual Level testing* and Instructor Certification testing* are included as a part of the KMIC immersion.
Regular Instructor Development Days that provide updates and enable consistency in technique and teaching quality.
(* Level advancement and Instructor Certification advancement are not guaranteed as results are subject to the participant's performance.)
Training is conducted at our headquarters in Santa Clara, California (just a few miles away from the San Jose International Airport).
What are the prerequisites?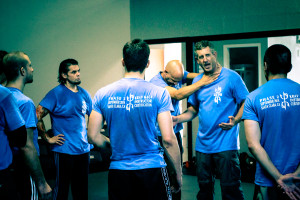 Prospectives must get approval from our head instructor Danny Zelig in order to attend our program. Prospectives must have a clean criminal record. Prospectives must be prepared to dedicate their full days during the KMIC training phases (no other major commitments). The one-time fee is $3,500 and grants ongoing unlimited access to our KMIC offerings.
What is the process?
The KMIC immersion consists of nine full days of physical and mental training, and testing (a minimum of 80 hours). The average training day is from 8am-5pm, with some days with modified schedules. Attendees must bring their own protective gear: groin guard, mouth guard, head gear, shin guards, and MMA gloves. Rashguards or other sweat wicking clothing to wear under your t-shirt is strongly advised.
Background reading material will be sent prior to the KMIC immersion, and its contents will be covered as a part of the written test. The reading material must be studied and reviewed prior to the KMIC event itself as its contents will be referenced during training. You will likely need to spend your evenings resting rather than studying, so do your reading ahead of time.
What do you get out of it?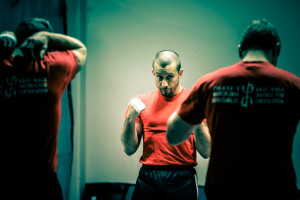 We do not limit our instructor training to covering techniques. We focus on the art of teaching and enabling you to be an effective instructor with a strong grounding in the philosophy of Krav Maga and how to conduct safety in training. We include a variety of supplemental material, covering topics ranging from: first aid training including CPR certification, teaching techniques for training kids/youth and specialized classes such as women-only classes, adapting to teaching virtually, and applied tactical training.
Once you have paid for the KMIC, you will be able to participate and test as frequently as you like. When you have achieved Full Instructor, your teaching rank will follow your own technique rank as you continue to grow as a practitioner. While your teaching certification is valid, you will be able to teach material up to one level below your own rank. The certification is valid for 3 years and will be renewed with regular Instructor Development events.
For Full Instructors, we provide printed material to support your education and retention, including sample class structure and seminar material.
What are the terms of the certification?
KMI is unique in requiring a high level of quality from our certified instructors through continuing education. Each certification is valid for 3 years. In order to keep your certification current, we require that you attend at least 20 hours of Instructor Development in order to renew your certification for another 3 years. We offer Instructor Development sessions multiple times a year, and are available to hold these sessions at your location.
What are people saying about KMIC?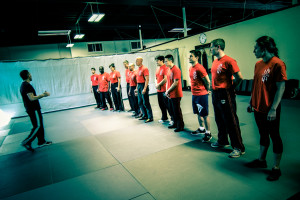 "KMIC is an incredibly professional course covering psychology, biology, physiology, CPR, nutrition, teaching methods, principles/values. All in addition to pure technique–super thorough. The course has an impressive focus on client/practitioner well-being, growth, and safety. KMI is a highly professional organization run with clear intent, principles, and mission. I am grateful to participate." — Carl S.
"I learned a lot and it was a great experience. I'd recommend it to anyone without hesitation."
"The KMIC deepened my understanding of what it is to be a Krav Maga practitioner, as well as a member of the KMI community. Through KMIC, I learned how to further develop my abilities in ways that will help other students, as well as how to push past my limitations and overcome physical and mental obstacles to success. I am very grateful to the instructors and my fellow students for allowing me to be a part of such a rewarding experience."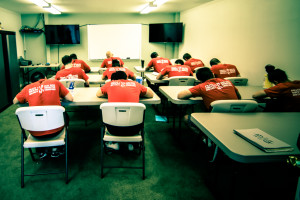 "I really enjoyed meeting and getting to know new, awesome people. I learned new skills or improved upon existing skills from just about every person in this class. Danny, Lisa, Chet, Tina, Cal, Jeremy – You guys rock!! Look forward to seeing everyone again in September."
"Things that I took away from the KMIC: Leave your ego out of it. Everyone needs more repetition on the skills and techniques we know. We cannot allow ourselves to get overconfident in our skills because this could put us in danger. Additionally, it will prevent us from being effective instructors and coaches to our students."