I have heard many questions from eager students over the years. What has changed from the early years of the system to the current day? There are so many Krav Maga organizations and federations now – so where can you get authentic Krav Maga training? Is there an official authority for Krav Maga in Israel? Most of these questions center on the purity or authenticity of Krav Maga, and whether or not change is good for the system. In this article, I will try to answer these questions and more.
What is Krav Maga?
Krav Maga was created by Imi Lichtenfeld in the 1950s, evolving from the Kapap techniques that he taught to underground organizations and later the Haganah. You can read more about the details of the formation of Krav Maga in our article "Israeli Martial Arts: A Brief Timeline." Since the 1950s, Krav Maga has been taught to members of the Israel Defense Forces. In the late 1970s to early 1980s, Krav Maga started to be taught to civilians in various parts of Israel. Soon after, Krav Maga expanded outside of the borders of Israel and has become popular all over the world, and for the right reasons: Practicality, efficiency, and results.
Krav Maga from past to present is consistent on a few key points:
No rules, no katas or forms. It has only one goal: self defense.
Aggression and speed of response.
Reliance on simplicity and instinct.
Get results and prevail.
These characteristics were true even in Kapap, which Imi himself learned, taught, and later evolved into Krav Maga.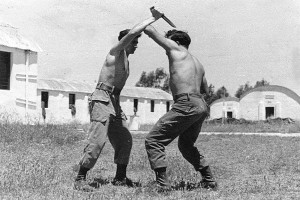 How has Krav Maga changed?
In the early days of the system, Krav Maga was influenced by different styles of martial arts like Karate, Judo, Aikido, and more. This was simply because the instructors of that time came from martial arts backgrounds and they integrated parts of those styles into the system. You can see some this influence in the use of gis and belts for grading.
Imi, the founder of Krav Maga, was a boxer and a wrestler, not a martial artist. Krav Maga evolved over the years as the fighting styles also evolved, and as culture and societal threats changed. Some styles of Krav Maga (yes there are different styles of Krav Maga these days) maintained the old martial arts mannerisms and training methods, while some evolved to be current, sophisticated, and updated.
Many changes and refinements have been good, while other changes evolve the original Israeli Krav Maga into something else. Some groups have added more techniques in order to be different from other Krav Maga organizations, or just for flash and pop appeal. Even though this might make Krav Maga "more mainstream," these changes are a drift away from the core and essence of Krav Maga.
Is there a governing body or central authority for Krav Maga?
Over the years, I have been asked the same question: There are so many organizations, federations, and styles of Krav Maga in Israel and elsewhere, so who is the governing authority in Krav Maga in Israel? What is the highest authority of Krav Maga? The answer is that in the civilian sector, there is none. Each federation definitely wants to be "The One," but no federation is. Remember, in Israel, any individual can rent the Wingate Institute to hold training courses. The Wingate Institute itself is not an official authority of Krav Maga. The only authority for Krav Maga is within the Military and Law Enforcement sector in Israel.
Where should I train in Krav Maga?
Some students are distressed to see that there are so many options for Krav Maga federations and organizations, and are confused when lawsuits are filed or when their own schools change allegiances or affiliations over time. You must remember that every martial art federation is a business, and as with any business, friendships and allegiances change. Some changes are motivated by personal ambition, or by interpersonal differences or business disagreements. This has nothing to do with Krav Maga and is just the nature of business.
Given that the majority of Krav Maga practitioners will never have the opportunity to train as a soldier in the IDF or as an officer at the Israeli Police Academy, this leads us to the next common question: Where should I train in Krav Maga? What is the best Krav Maga organization? What is the best Krav Maga school? The answer is not with an organization. It is with the Instructor. You can find great instructors in all the organizations, and unfortunately also bad ones. Just because an instructor seems to have an impressive resume doesn't mean that that resume is real, or that they are an effective instructor. Try a class or two before you commit, and look for these signs.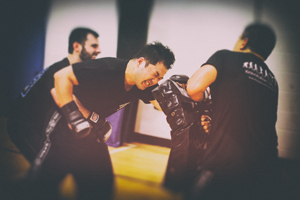 A good Krav Maga instructor understands the importance of his or her work. He is a fulltime and passionate practitioner of Krav Maga — not a "Weekend" practitioner. A good Krav Maga instructor must be humble, skilled, and caring, and must be able to effectively transfer his knowledge to all types of students. A good Krav Maga instructor truly knows and understand the philosophy of the system and its elements. A good Krav Maga instructor also knows his limits and strives to be the best he can be.
A good Krav Maga instructor builds his students' mental ability (building a fighter character that can deal with different types of stress, building will and inner strength); provides strong physical techniques (building from simple to more complicated moves and scenarios, while always maintaining the rule that the solution needs to be simpler than the problem); and teaches his students to get results by combining the above in order to prevail in the face of challenges.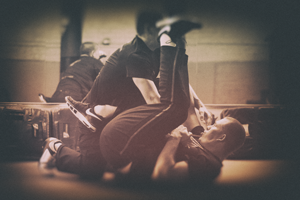 What are some warning signs?
Lack of focus – One of the amazing things with the Krav Maga approach is that techniques can be learned relatively fast. Unfortunately, this can lead to a different problem with training. Krav Maga practitioners want to learn a technique and then quickly continue to the next technique. Repetition starts to be neglected and the result is practitioners who are familiar with techniques but a poor ability to execute those techniques. Repetition, patience, and discipline is needed in order to be able to execute proper technique. A world champion cannot stop training if he wishes to continue winning, and neither can we stop training. A good instructor must not jump from topic to topic and needlessly follow fads. A good instructor will focus on repetition and continued training, both for his students and for himself. The techniques themselves won't save your life — its the repetition of the techniques that turns technique into the instinct that will save your life.
Treating civilians like soldiers and vice versa – There are three divisions of Krav Maga: Military, Law Enforcement, and Civilian. Each one of these divisions has different goals and mindsets which should not be mixed. For example, training a civilian like a soldier will put the practitioner's life at risk. The methods of teaching each of these three divisions are different and should not be mixed, no matter what one's ego and vanity might wish.
Too much ego – For every kind of instructor and teacher, balancing ego is a challenge. An instructor and coach necessarily has authority, and knows something the student doesn't know. But that doesn't make the instructor superior. If you see things like "We are the best and only authentic source," consider the intent behind those words carefully. Ego also makes instructors careless, often encouraging students to do techniques beyond their level without regard for safety in training, or without proper focus on the basics.
---
As I covered in my article on "Loyalty in the Martial Arts World," you should always keep questioning. There are many incredible instructors out there. You just have to keep exploring until you find them. I found many unknown and unsung instructors over my 30+ years in Krav Maga, and if you keep looking, you will find your own.
I am sure there are more questions and issues to cover, but the first step is to ignore the politics and just start training!
So that one may walk in peace.
Danny Zelig