Sep 13 – Capacity increased to 20. Only 2 spots left!
Join us for two KMI exclusive workshops in September with Kendra Katz, CPT, CES. We are excited to have Kendra leading us through tailored 75 minute workshops specifically for KMI members at both KMI Oakland and KMI SF. The workshops will cover foam rolling techniques that you can do at home, as well as stretches selected to assist recovery from our regular training at KMI. Kendra draws on 15 years of personal experience in body mechanics in dance, dance instruction, and martial arts to assist her skill at effective rehabilitation of sports injuries.
Members attend for free! There is a hard limit of 15 attendees due to space and equipment, so registration is required. Non-members may attend for a $20 drop in rate.
Kendra Katz is a Certified Personal Trainer who brings a whole body approach to her work with curvy women, dancers, and people suffering from injuries. Her mission is to help you have fun while achieving your goals whether they are to lose weight, recover from an injury, become stronger, be pain free, gain muscle, or have more energy. She brings a unique ability to assess people's bodies and see where they are out of alignment based on her 15 years as a dancer, and dance instructor. Kendra is currently training at The Working Body in Oakland, California, and in private homes throughout the Bay Area.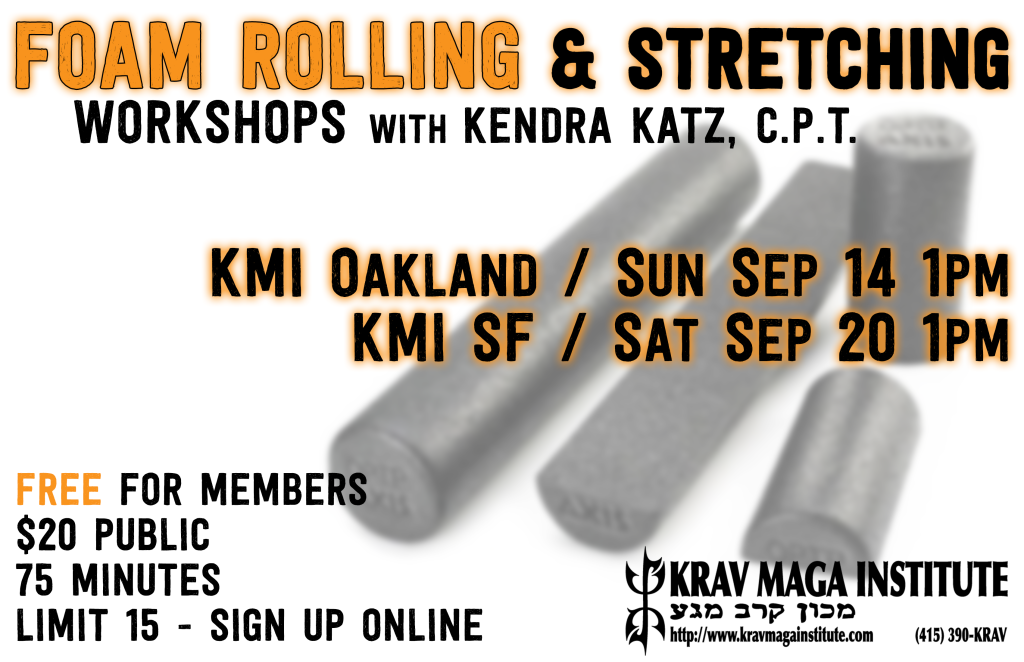 Pictures from this Event
[pe2-gallery album="http://picasaweb.google.com/data/feed/base/user/116612647941336209198/albumid/6059437309740448065?alt=rss&hl=en_US&kind=photo" ]