Update! Over $1,000 raised for FOAS! Thank you for your generosity and support!
This January, learn how to defend yourself while walking to your car, walking home from BART, walking your dog, and more. This scenario-based workshop will address awareness, techniques, and life-saving behavior that will help you be more prepared in these common situations. This workshop is no experience necessary, open to both men and women as this scenario is universal – we all must learn how to protect ourselves when walking alone. 100% of proceeds from this event will go directly to the Friends of Oakland Animal Services nonprofit 501(c)(3) organization.
Oakland Animal Services is in a severe crisis mode now due to lack of funding. If you would like to provide additional financial donations, we will be happy to include your additional donation. You can also browse their "wish list" online.
Oakland Site Director and instructor of this seminar Deanna Perez has this personal story about OAS: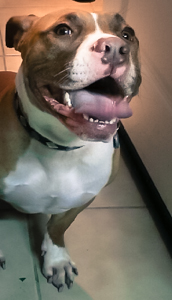 "After Kisses's death our family was very sad and weren't ready to get another dog. Months later, we made a wrong turn into the parking lot of OAS. My family and I, without any expectations, decided to go inside. When we arrived we were greeted and treated with great hospitality. We were able to look and have some one-on-one time with the animals. The volunteer asked us what we were looking for in a pet. She allowed us to meet and greet the pets of our choosing but she also suggested a pet she thought we would love. And instantly we fell in love with a snorting, year and half old red nose pit mix. At the time "Natalie" was living in the shelter for over 30 days and was put in the back because her breed and color was too common to be put in front. Unfortunately, we couldn't get the paper work in that day because, again, we weren't planning on adopting a puppy. The soonest we would be able to go back was 6 days later. By the time we came back, they shipped her to Santa Cruz Animal Shelter because of overcrowding. First thing Saturday morning, our family went to Santa Cruz and got her. Her new family name is Pig. We thank OAS for taking time to talk, get to know our family, suggesting "Natalie" to us, and letting us know where she had been relocated. Adopting Pig was one of the best experiences and decisions for our family."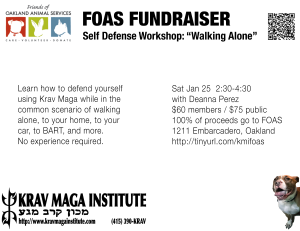 Pictures from this Event
[pe2-gallery album="http://picasaweb.google.com/data/feed/base/user/116612647941336209198/albumid/5973309169779698161?alt=rss&hl=en_US&kind=photo" ]
With thanks for the original picture of the alley by Maxime Guilbot, modified for use by KMI.