Full weekend registration is closed. Training only by-day registration is still open!
Krav Maga Winter Camp comes to Estes Park, Colorado in November, featuring 14 hours of intense Krav Maga training under premiere instructor Danny Zelig in an incomparably beautiful locale.
Danny Zelig has over 30 years of experience teaching Krav Maga, after starting his professional career in teaching Krav Maga to infantry units in the Israel Defense Forces. Danny has extensive experience training civilians, law enforcement, private security, and military units. Don't miss this opportunity for intensive training with the founder of Krav Maga Institute.
You can register by the day for Saturday and/or Sunday, or register for all three days with room and board included on site at the YMCA of the Rockies at Estes Park. Day-only attendees can purchase food on site for an additional fee.
---
REGISTRATION DEADLINE: Day Only (Training Only) through Nov 12. Full Registration (with Room and Board) through Nov 7.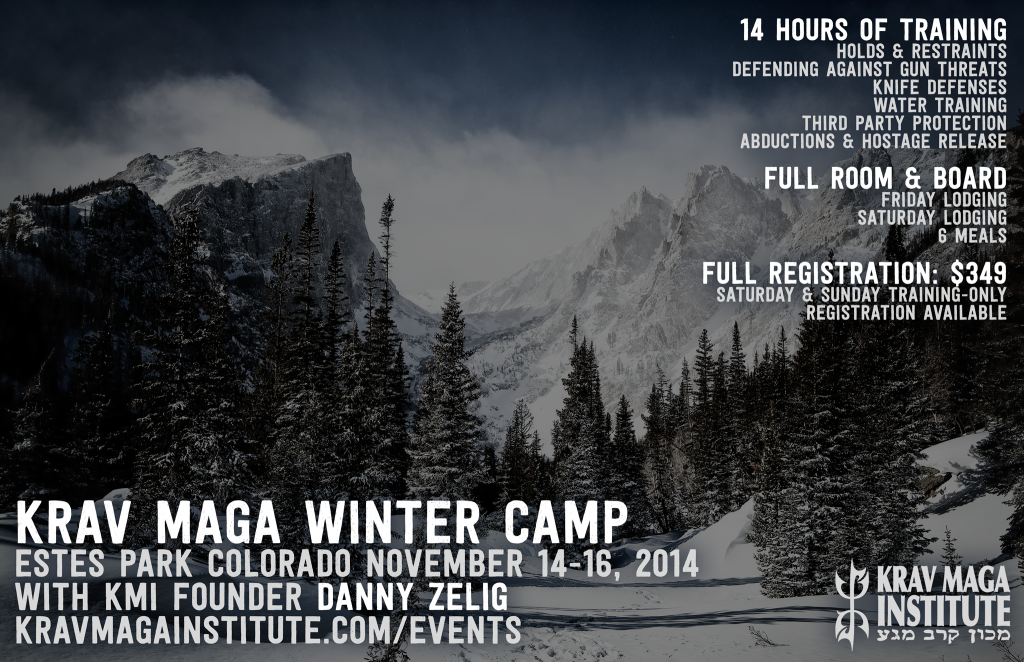 ---
FAQ
Do I need any prior experience?
The Winter Camp is acceptable for both experienced and novice Krav Maga practitioners. No prior experience is required.
Can my family come without training?
Yes! Room & Board is $89/night and kids under 6 stay for free.
What is the minimum age?
14 with parental supervision. Minors must have parents present on site at sign in on Friday to sign the waiver and release.
---
Friday, November 14, 2014
| | |
| --- | --- |
| 5p-7p | Dinner and Check-In |
| 7p-9p | Holds and Restraints |
Saturday, November 15, 2014
| | |
| --- | --- |
| 7a-9a | Breakfast |
| 9a-12p | Defending Against Gun Threats and Active Shooters |
| 12p-1p | Lunch |
| 1p-3p | Knife Defenses |
| 3:30p-5:30p | Water Training |
| 6:30p-? | BBQ |
Sunday, November 16, 2014
| | |
| --- | --- |
| 7a-9a | Breakfast |
| 9a-12p | PROTECT: Third Party Protection |
| 12p-1p | Lunch |
| 1p-3p | Abductions and Hostage Release |
---
Holds & Restraints
This 3 hour seminar covers Krav Maga restraint, control, and hold techniques. Control and restraint techniques are often taught to civilians in professions that encounter dangerous parties such as mental patients or those under the effect of illegal substances, as a means to subdue while minimizing harm to those involved in the restraint process. The seminar will cover a range of compliance holds and joint locks.
Defending Against Gun Threats
In this 3 hour seminar, we will train in defending against a variety of gun threats and the appropriate responses to those threats, life saving techniques for civilians and professionals who encounter guns in the field.
Knife Defenses
This two hour workshop covers basic to advanced knife threat and attack scenarios, including where the victim is standing, seated, and on the ground.
Water Training
Learn in this two hour workshop how being in the water changes everything about your training. Water and the threat of drowning increases stress and difficulty tremendously when executing self defense. This workshop will be held in the water, and attendees should be comfortable in the water.
PROTECT: Third Party Protection
In the PROTECT seminar, you will learn to how to work together with your partner to defend each other in violent and emergency situations in public and at home.In this three hour seminar, you will learn:
• Prevention behavior, techniques, and drills
• Self-defense techniques
• Scenario training
The seminar extends professional security techniques to also focus on common situations that you and a friend or loved one might encounter together.
Abductions and Hostage Release
This two hour workshop covers defending against abduction, kidnapping, and hostage scenarios, including release and escape. The workshop will also cover knife and gun threats common to abductions.
Original photo by Travis Swan.