It's a new year and a great time to celebrate Krav Maga Institute Oakland! We will be holding our GRAND OPENING event on Sunday January 19, 2014 from 10:30am to 4:00pm.
Open House – Grab a bite to eat and a drink while you're here, check out our gorgeous new Oakland facility, right on the waterfront!
Free Classes – Learn what we have to offer, and see the KMI Difference first hand.
Door Prizes and Promos – As door prizes for this event, we are offering three free registrations to the February Gun Defense Seminar ($150 value!). More surprises will be unveiled at the event!
Members, don't forget the $50 referral bonus if your referral signs up with a membership!
Save time and fill out the Waiver and Release before you come. Please remember no street shoes are allowed in the training room! You can train in socks, barefoot, or with dedicated training shoes. Lockers and changing rooms are available on site.
Grand Opening Events
Free Classes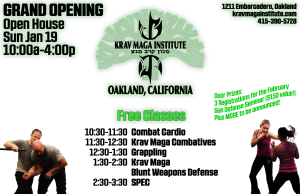 Pictures from this Event
[pe2-gallery album="http://picasaweb.google.com/data/feed/base/user/116612647941336209198/albumid/5970881528288005601?alt=rss&hl=en_US&kind=photo" ]