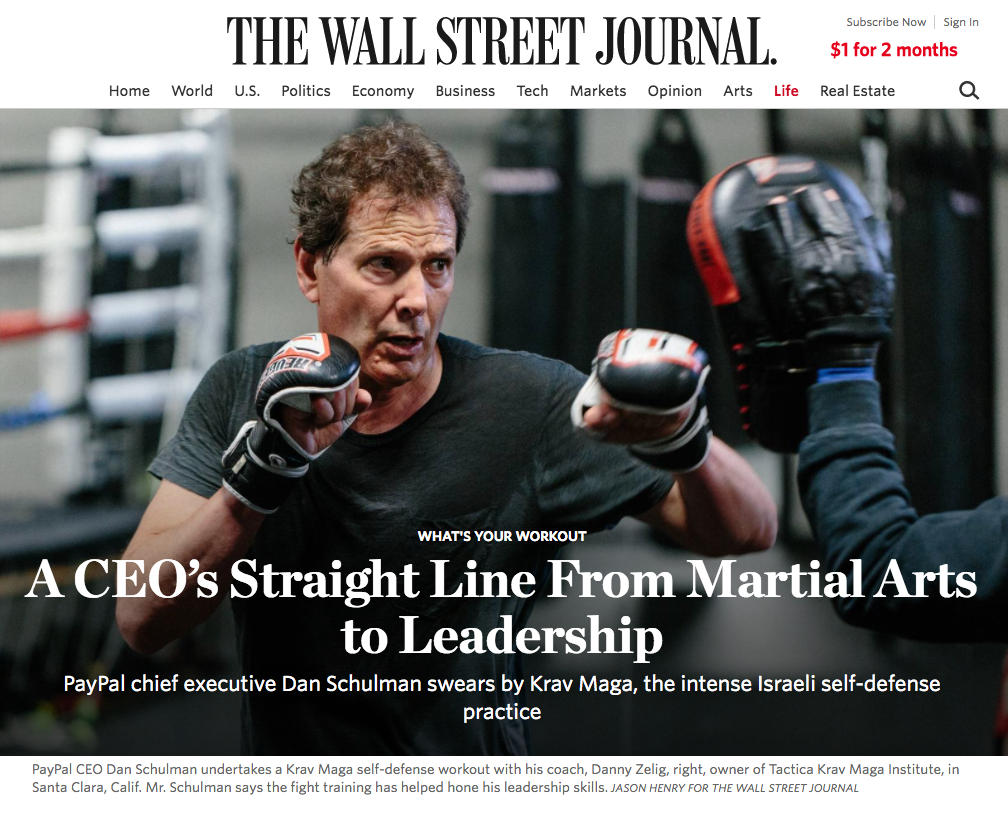 Excerpts from The Wall Street Journal, A CEO's Straight Line From Martial Arts to Leadership, June 3, 2017.
Most CEOs start their day strategizing bottom lines or growth strategies over email. Dan Schulman starts his day at the gym, figuring out how to disarm someone with a knife. He credits his daily Krav Maga (pronounced krahv mah-GAH) training with developing leadership skills he has put to use in roles at American Express, Virgin Mobile, Priceline, AT&T and in his current position as president and CEO of PayPal Holdings Inc. "They say leadership is defined in times of stress, and I think Krav Maga trains you for those moments," he says.
---
Krav Maga Mentality
Krav Maga might look like something out of "Fight Club," but proponents say the philosophy of the fighting system develops skills that translate to the office.
"Krav Maga training develops an individual's ability to effectively deal with confrontation," says Danny Zelig, founder of the Tactica Krav Maga Institute, based in San Francisco. "People learn to maintain confidence and mental function without shying away from conflict due to fear of confrontation."
"Making decisions under stress boosts mental strength and teaches students to focus their efforts and energy on the most important, immediate needs," he says. Krav Maga develops heightened negotiation and improvisation skills through situational awareness, he says.
"An individual learns to take cues from others during their attempts to de-escalate and negotiate with an aggressor during dangerous situations," Mr. Zelig says. "A heightened sense of awareness allows leaders to understand their peers, co-workers and upper management and to be in tune and aware of their co-workers' current mental states by the cues they give."
Read the full article at the The Wall Street Journal, A CEO's Straight Line From Martial Arts to Leadership.