This monthly program delivers a series of 2½ hour, non-live fire Applied Tactical Shooting (ATS) courses which present and exercise tactical shooting skills, tactics, techniques, and mindset in the context of pistol handling.  As a consistent ongoing series, students will be able to learn new skills as well as maintain and hone existing ones. The program is appropriate for any level of shooter, from the complete novice to the experienced operator.
Are you not sure whether you are ready for Applied Tactical Shooting? We also offer Pistol 101 classes for beginners and those re-familiarizing themselves. The Pistol 101 course uses Non-Lethal Training Ammunition and a real Glock pistol.
Are you ready to move on to the nest step in your ATS training? We now offer ATS: Intermediate Pistol and ATS: Tactical Rifle courses!
See the full ATS course description in our Applied Tactics training course catalog.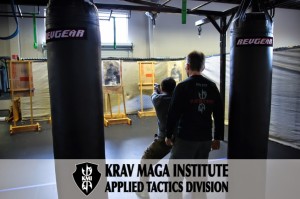 Registrants for tactical training events may be required to pass a one-time criminal background check before participating. One time processing fee of $25 – please contact us to ask for the necessary form and for any other questions!