At the end of last year, Tactica paired with Queen's Bench Bar Association's Domestic Violence Committee to hold a class to raise money so that SF Safe House could bring residents in for a FREE self defense and empowerment workshop. This past Sunday, we hosted the first free class for SF Safe House and it was a resounding success! Rose Valentine led the way and did a great job empowering the women in her class to fight for themselves and each other.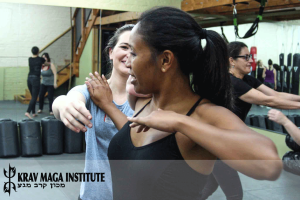 Tactica is committed to working with community organizations that work to help victims of violence and trauma, and we would love to continue to offer these workshops as well as opening our facilities to speaker events. If you are interested in helping to provide workshops and speakers/meeting spaces to SF Safe House residents and/or other organizations within our local communities, please contact us info@kravmagainstitute.com.
About SF Safe House (from the San Francisco Safe House website):
Prostituted women are a special population within the community of the homeless.
They are particularly subject to alcohol and substance abuse and the violence and trauma of street life. They are often overlooked, disregarded and looked down upon by social service providers.
San Francisco SafeHouse is the only residential program of its kind in the city and one of fewer than a dozen nationwide. We have successfully created a safe place for women to heal and live a dignified life.